shinfinTM fins actively teach efficient, streamlined swimming strokes for freestyle, backstroke & fly. These swim instruction fins are a great instruction aid to help teach swim school classes, lessons & courses.
Want new way to teach freestyle, backstroke & fly?
Teach efficient streamlined strokes.
For freestyle, backstroke & fly.
Same muscles as barefoot kicking.
Better technique stays for barefoot.
Water flow lifts legs horizontal.
Teach straighter knees.
No knee-bend like regular flippers.
Guide natural streamlined kick.
Thighs, buttocks & stomach power.
No calf strain like regular flippers.
Encourage proper arm techniques.
Teach stroke timing & breathing.
Comfortable relaxed ankles & feet.
Same size for child & adult lessons.
Swim aid for learn to swim classes.
Teach swim schools & courses.
Great new swim instruction aid.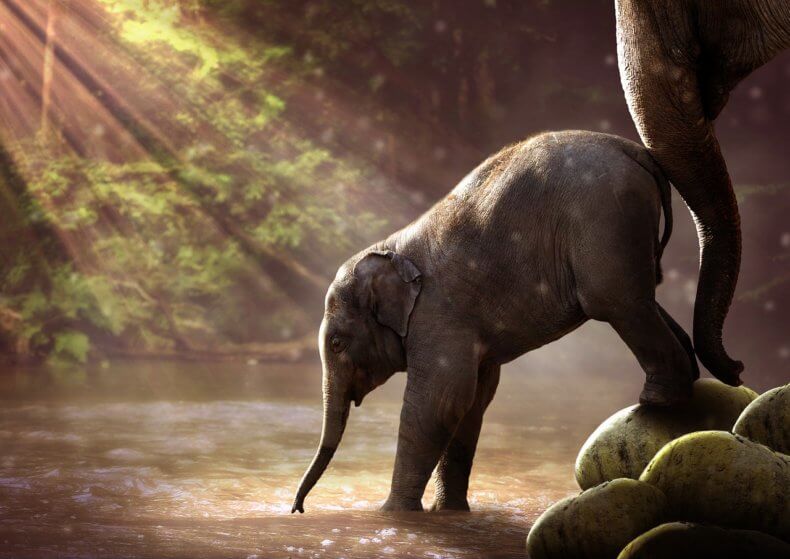 Teach correct swimming technique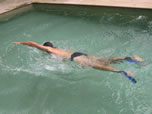 instruction aid for freestyle, backstroke, butterfly (not breaststroke)
teach streamlined swimming, horizontal body
instruct a natural, streamlined kick
lift your legs horizontal with straighter knees
prevent bad techniques like bent knee bicycle-kick
prevent common mistakes of beginner swimmers
teach adults and children learning to swim
Instruct correct muscle use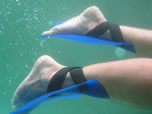 fin power connects direct to your legs
teach extra speed from up and down kicks
instruct correct kick muscles: thighs, buttocks, stomach, torso
teach the same muscle use as without fins
teach your feet and ankles to move naturally
improve cardiovascular fitness and lung capacity
Comfortable & safe teaching aid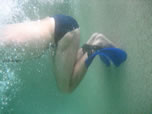 instructs relaxed and comfortable feet, ankles, Achilles tendons and calf muscles
no extra calf muscle strain (unlike foot fins)
helps teaching slow, medium or fast kicks
can still dive and push-off from wall
easier to walk
easier water entry and exit
Instruction for all swim class levels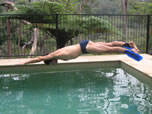 excellent for learn to swim classes
aids full stroke and kick-only exercises
teach full stroke or using kickboard
breathing exercises instruction aid
arm technique instruction aid
adjust fin on leg to optimise kick technique
Swim instruction fins reviews
For customer testimonials about people getting great benefits from these swim instruction fins, please see swim instruction fins reviews.
Helpful for swim learning too
To learn about how these fins also help swim learning, please see swim learning fins article and swim learning fins reviews.