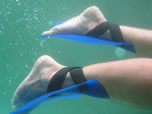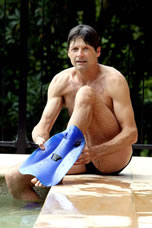 shinfinTM leg fins fit on your legs. Not on your feet. Your feet are free to kick naturally & walk.
Their many benefits fix foot fin faults. Similar uses to foot fins. Excellent for disabilities too. Are you ready to evolve from old foot fins?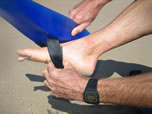 FAQ and tips help you get the best from your fins. Extensive reviews show how much people love them.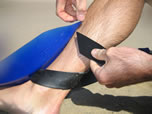 Worldwide delivery plus a 100-day money-back guarantee for your peace of mind. I think you'll love shinfinTM leg fins too.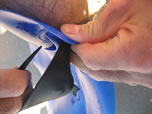 Any questions just ask – I am here to help. Buy online from our secure shop.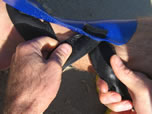 Happy finning! Many thanks, Marc Lee (Inventor & Designer).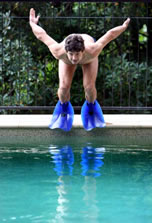 How shinfinTM leg fins work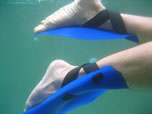 Their unique natural fin design matches the kick biomechanics of elite swimmers for freestyle, backstroke and butterfly. So their streamlined kick from the hip replaces the old bent-knee kick of foot flippers. If you don't already do a streamlined kick, they will teach you. (Some customers use them for breaststroke or "frog-kick" but they are not specifically designed for this.)
strap securely above ankle
comfortable & flexible fit on leg
blade from middle of shin to toes
feet & ankles free to walk
dive & swim naturally
down-kick: blade lies along shin
up-kick: blade flexes from shin
kick from hips, less knee-bend
good streamlined swim kick
big muscle power, thighs, torso
horizontal body, less drag
Because shinfinTM fins fit on your legs (not on your feet), they give you many benefits over foot flippers.
Fitting benefits make them feel like a natural part of your body. More adjustable so single size fits you properly. More comfortable because they don't hurt your feet or give you cramps. Your feet are free to walk, dive and swim. Stronger and lighter for maximum power.
Kicking benefits make your swimming feel wonderful. Better swim style encourages elite swimming strokes for freestyle, backstroke & fly. Hip powered kick uses stronger muscles. Smooth swimming kick streamlines your entire body.
Because shinfinTM fins fit on your legs (not on your feet), they have a unique streamlined kick to replace many uses of foot flippers.
Pool, lake and sea swimming for swim learning, swim instruction, swim fitness, swim technique, swim training, aqua aerobics, aquatic therapy and monofin swimming.
Surf power for body surfing, boogie & bodyboarding, kneeboarding, river boarding and surfing.
Underwater speed for snorkeling, skin & scuba diving, spear fishing and freediving.
Water craft propulsion for float tube fishing and water sport safety with windsurfers, kiteboards, surf skis, kayaks, jet skis etc.
shinfinTM fins are also excellent for disabilities because they fit on your legs (not on your feet). So they give you many new advantages for many different disabilities. Swimming and other water activities become much more fun, so you get more health benefits too.
You can use them with many disabilities. They work with bunions, club feet, fused ankles, foot amputations, below knee amputations (BKA), above knee amputations (AKA), bilateral amputees etc. Furthermore, you can even strap them to your arms with below elbow amputations and above elbow amputations. In addition, they provide real benefits for many movement disabilities such as Cerebral Palsy (CP), Multiple Sclerosis (MS), Parkinson's Disease (PD), neuropathy and stroke complications.
They are invaluable for learning to swim, building muscle tone, regaining movement control, rehabilitation etc. That is why we get excellent feedback.
I apologise if I have not yet listed your disability. If so, please contact me directly for advice.
shinfinTM fins are an exciting new paradigm in fin design and use. Our fin tips and FAQ will help you get the very best from your fins. So it is worth learning how to use them properly, to unleash their many benefits. Then you will be amazed! Please contact me if you need any more fin tips or have any more questions.
Fin size explains how one size fits all kids to adults taller than 140cm (4′ 7″) and all leg shapes. Of course, your foot size doesn't matter.
Fitting fins describes putting them on and taking them off. Also tightening, adjusting and positioning on leg for best results.
Kicking fins explains how they encourage a streamlined kick from your hips, with only a little knee-bend. In contrast, foot flippers need much more knee-bend, which increases strain and cramps.
Walking with fins explains how much easier they are for walking on land and also in the water. Unlike foot flippers!
Fin care & materials tells you how to look after these polyurethane fins and natural rubber straps. Basically, rinse after use and store out of the sun.
Customers from around the world have emailed me hundreds of fascinating stories which they have kindly allowed me to share with you. So here is a selection of reviews. In addition, I have sorted the reviews by benefits, uses and disabilities as below.
Benefits reviews: adjustable, comfortable, feet free, strong & light, best swim style, hip power and smooth swimming.
Uses reviews: aqua aerobics, aquatic therapy, body surfing, bodyboarding, kneeboarding, scuba diving, snorkeling, surfing, swim fitness, swim instruction, swim learning, swim technique, swim training and water sport safety.
Disabilities reviews: above knee amputation (AKA), below knee amputation (BKA) and foot amputation.
I get so many emails about the issues people have with their foot flippers. Most likely you already know some of the foot flipper problems too.
Foot flippers cause problems because they fit on your feet. Firstly, they often don't fit properly – too wide, too narrow, not enough sizes etc. So they hurt your feet. Secondly, they stress your ankles, strain your calf muscles and twist your knees too much. Thirdly, they change your kick to a "bicycle kick" with too much knee-bend. Furthermore, because they are heavy and bulky, they tend to fall off and sink. Often they break or rot. Of course, they also trip you up when you walk!
Leave all these foot flipper problems behind when you switch to shinfinTM leg fins, the exciting alternative to foot flippers. In contrast, shinfinTM leg fins have many benefits and many uses for most water activities and are ideal for many disabilities too. Have more fun in the water.
I invite you to take the plunge and evolve!
Thank you for reading about these exciting new fins. To learn more, please explore the top menu, perhaps from left to right. Or, if you are ready to take the plunge, please buy here.
Please contact me if you have any questions at all. I am here to help you get the best from your fins, to move faster and naturally through the water.
Thank you, Marc Lee (Inventor & Designer).